8000 Elite Series
All of Omegasonics' blind cleaning systems quickly and effectively clean all types of dirty, nicotine-stained or fire- and water-damaged blinds, including micro and mini blinds, verticals, duettes, silhouettes, woven woods and pleated shades.
Contact Us to learn how to clean and repair blinds and we will help you start your own blind-cleaning business or expand your existing retail business.
Unique Features
Power ON push button

Hold push button for continuous sound

Built-in thermostatically controlled heat

Digital readout temperature controller

Digital timer with automatic foot pedal operation

Timer reset

Low water level sensor

75" or 100"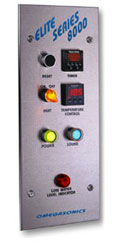 ---